I was looking for a good way to mount my antennas on my truck. Mounts can be expensive and I'm always looking for a good DIY solution, so I found some pocket stake tie down anchors, like these.
https://www.cargogear.com/OneItemInfo.aspx?partnum=HIUANCHOR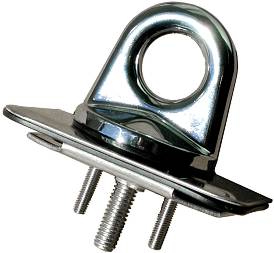 This type of anchor point features a bolt that runs down the middle. This is important and the method of attachment is important. You want to be able to take advantage of the design but still be able to remove the center bolt and replace it with the larger diameter bulkhead SO-239 connector.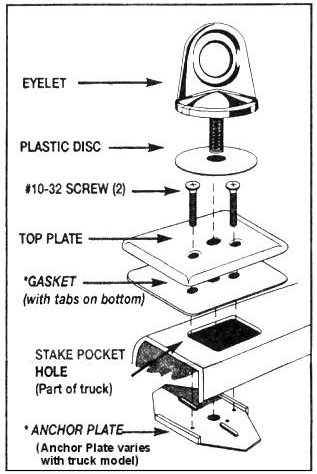 You will also have to enlarge the threaded hole on the bottom anchor plate that secures the original bolt. Once you drill out that hole, since it is no longer threaded, you will need to add nuts above and below the anchor plate to secure the bulkhead connector to the anchor plate. I recommend getting the larger, oversized nuts to secure the bulkhead connector to the anchor plate.
These anchors are designed to handle heavy loads and should be able to support moderately sized screwdriver antennas as well as larger VHF/UHF antennas without any issue.
These stake pocket tie-down points feature stainless steel construction, flush mounted top plates, and 400 lb. rating. Eyelet is threaded and removable, allowing installation of other accessories to the plates, like camper shells.
Here's a video walk-through of my mobile installation... (I apologize for the wind noise!)